Regular price
$15.99 USD
Sale price
$10.00 USD
Unit price
per
Sale
Sold out
Introducing The Aura Chakra Essence Body Scrub. This New product is an extension of the Aura Chakra Essence Spray. Imagine if peace and harmony had a scent ? Well this is that!This scrub has the exact same scent of our spray! The goal is to bring peace, harmony and relaxation to you in the shower. Our scrub is very moisturizing and infused with lavender buds, chamomile flower and calendula which amazing for the skin. This great to use after a long and chaotic day or if you want to pamper yourself just because. This scrub will remind you of being at the spa without leaving your home.
Directions: Wash Skin First. Then apply a layer of scrub onto damp skin and work onto the body using circular motions. Exfoliate 1-3 per week. For external use only. 
INGREDIENTS: Epsom Salt. Pink Himalayan Salt. Sea Salt. Cane Sugar. Virgin Olive Oil. Grapeseed Oil. Avocado Oil. Coconut Oil. Calendula Petals. Chamomile. Lavender Buds. Frankincense Essential oil. Clove Essential Oil. Lavender Essential Oil. Lemon Essential Oil. Patchouli Essential Oil. Sage Essential Oil. Tea Tree Essential Oil. Rosemary Essential Oil. Eucalyptus Essential Oil. Yarrow Essence. Angelica Essence. Self-Heal Essence. Chamomile Essence. 
Each item is weighed to measure approximately 8 oz per canister. Every scrub comes with a complimentary wooden spatula for use. 
Share
How to use

To create sound with a singing bowl, firmly press the accompanying mallet in a circular motion against the bowl's outside edge or rim. When you hear a bright, clear tone, you can slow down the motion. Use your full arm to make the motion, rather than just rotating your wrist.
Shipping

Please note all tibetan sound bowls currently take 1-2 business days for processing before shipment. 
View full details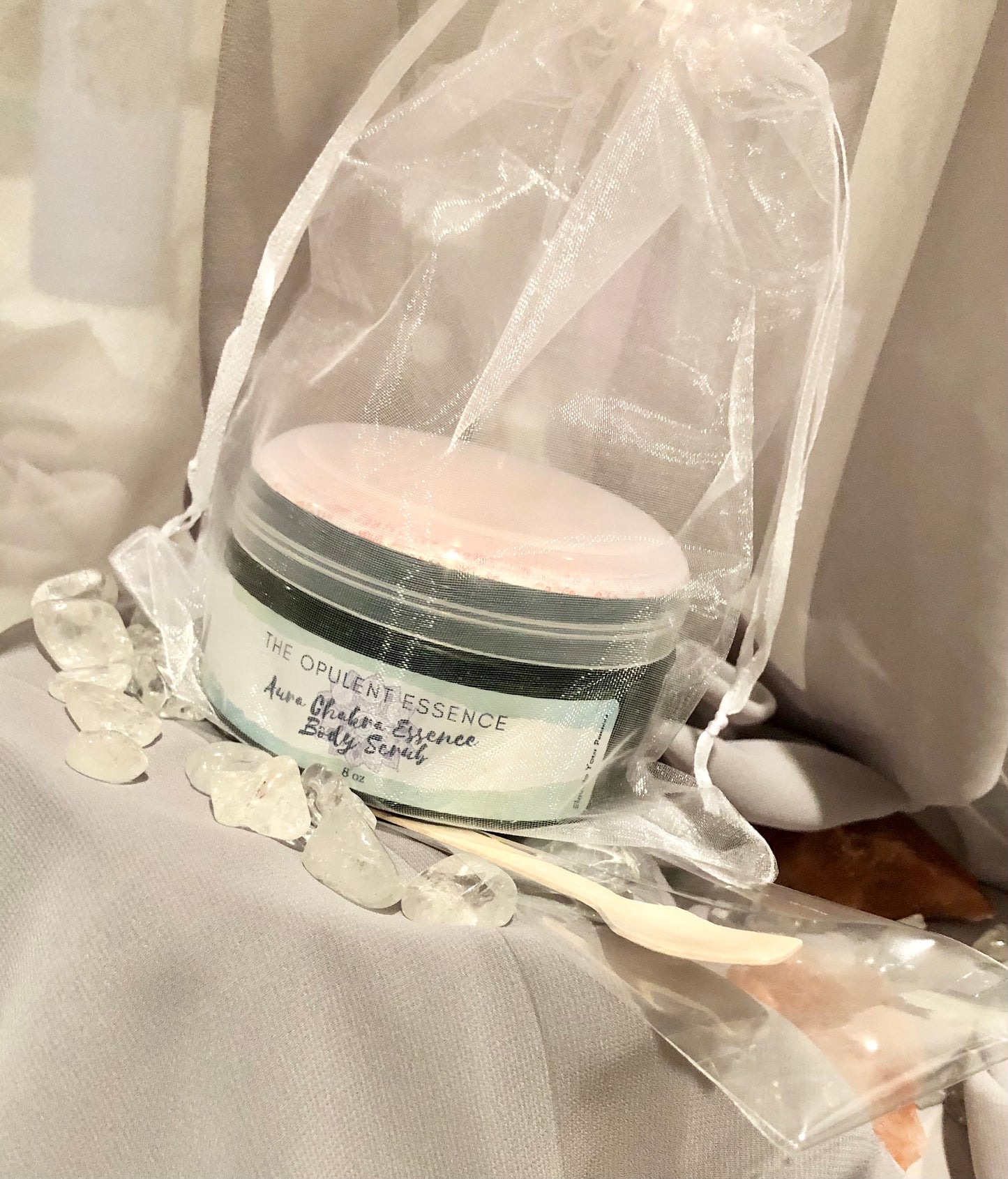 Elevate your meditation with our Aura Chakra Essence Spray
Our spray is a great way to heighten your experience by cleansing the area and setting positive intentions.